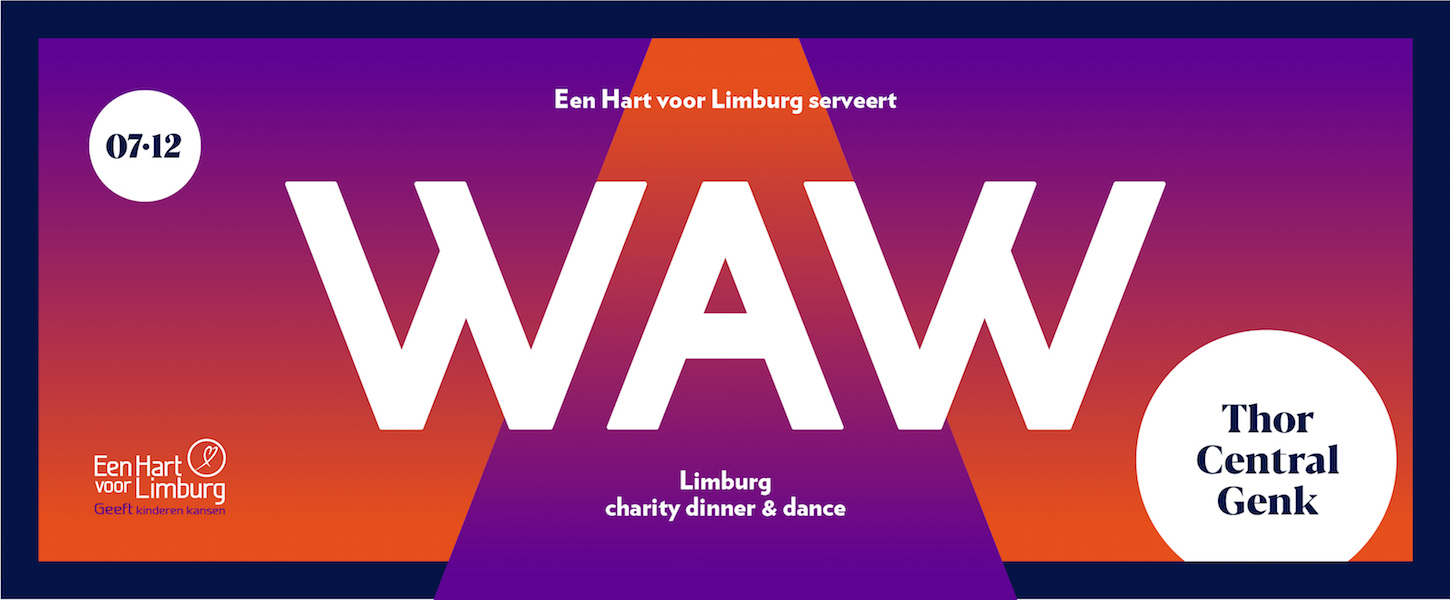 Een Hart Voor Limburg (a Heart for Limburg), a regional fund, is organizing a charity dinner on Friday 7 December. This gala evening takes place in the Genk Thor Central and includes a gourmet dinner for 450 guests. The theme of the evening is We Are Wanderful, named after the book about 25 years of Limburg design. Partners Z33 – House for Contemporary Art – and this online platform sign up for a unique design experience at different levels. The proceeds of this event will go entirely to projects set up for the benefit of socially vulnerable children and youth in Limburg.
For almost 15 years Een Hart for Limburg – created by employees of the media company Concentra, now Mediahuis and publisher of Het Belang van Limburg, among other things – is committed to improving the quality of life of socially vulnerable children and youth in our province. This concerns children with a mental or physical disability or children who, for whatever reason, are in danger of missing out on a social connection. Een Hart voor Limburg has supported almost 600 initiatives since the start, accounting for an impressive sum of more than 3.3 million euros. These funds are brought together by partner companies and donors. On top of that, they also organize numerous events which include the WAW Limburg charity event that will take place in Thor Central in Genk on Friday 7 December.
A Table as a platform
WAW refers to We Are Wanderful, the reference work on 25 years of design in Limburg. In addition to a gastronomic benefit event with a 5-course menu, served by chef Marco Cellini (Leut), WAW also promises to be a unique design experience on different levels. The 45 round tables for 10 people each (2,000 euros) form the basis of the evening. Five Wanderful designers have developed an intervention on each table / decoration especially for this evening. These include Jenny Stieglitz, Lore Langendries, Joren Peters, Caro van den Hole and Johan Bruninx who designed a concept for 9 tables each from their own characteristic design discipline.
Talks & performances
Wanderful design is also served between courses. For example, graphic designer and typographer Ann Bessemans, associated with the PXL MAD in Hasselt, will explain her Matildaletter type, a font specially developed for children with reading problems. Media artist (and Z33 Applied 21-laureate) Dries Depoorter also gives a short lecture in which he elucidates his controversial art projects and then there is Designer of the Year, Frederik Delbart, who gives an insight into his vision and work. Also the nation's most famous ballet dancer Wim Vanlessen will perform together with his regular dance partner Aki that evening. Particular, because Vanlessen announced his farewell after 25 years of dancing and it is the last time that he will be seen in Limburg. His- and Aki's pointe shoes will also be auctioned along with 5 other special design items later that evening.
Design auction
Een Hart voor Limburg and Wanderful.design also present an auction of 6 unique design objects for charity mentioned above. A unique opportunity to bid on a special piece of Limburg top designers Lore Langendries, Michaël Verheyden, Frederik Delbart and Piet Stockmans or a special artwork by Fred Eerdekens and of course the pointe shoes of Wim Vanlessen and Aki. The auction starts on November 16 at 10 am online on our site and runs until Friday 7 December at 12:00 pm. The highest online bid may possibly be outbid during the final auction at the WAW event in Thor Central. The (final) auction takes place under the supervision of bailiff Rik Kerkstoel and will be animated with Armand Schreurs as auctioneer.
Would you like to know more about the special WAW Limburg charity event, or would you like to sign up for a table and support the charity?
Then take a look at www.eenhartvoorlimburg.be
#kinderenkansengeven
#wwwwanderful
This article is part
02

of